| | |
| --- | --- |
| LaymarCrafts Woodturning | Hints & Tips |
---
The advantage of having a MIG Welder [or any Welder] is apparent if you want to make Tool Rests in particular Special Tool Rests to suit your particular set up and requirements.
In all I have something like 14 Shop made Rests [and only one bought Rest, which is the one that came with the Lathe] and if you valued these at Market Cost then they would exceed the Cost of the Welder, I am certain that my investment has already more than paid for itself.
The obvious thing is once you have the Welder this just expands your capabilities in making, and repairing, all manner of things in and around the Workshop.
The Tool Rests detailed below were generally designed for the "Flip Down" Rest set up described in the previous Hints & Tips page of this Web Site. and as such are classified as being suitable for the Lighter Work Load associated with the type of Turning this would be used for, however this does not mean you cannot use them with your standard Banjo.
When making these Rests for use with, in particular the Flip Down Set Up, you must determine the dimension "X" as shown on the first sketch, this is the minimum distance you can achieve with the Banjo as far across the Lathe Bed [Ways] as possible, "X" will equal the minimum "Overhang" of the Tool Rest Cross Bar in relation to the Tool Rest Post.
This Dimension should mean the Tool Rest could be positioned along the Centre Line of the Lathe, and therefore ideal for turning Cocktail Sticks, however you could of course reduce this by half the minimum diameter of the items you intend to Turn.
For instance Pen Turners are typically working with 12mm [½"] Stock so "X" could be reduced by 6mm [¼"], any reduction in overhang will give you the advantage of added rigidity.
I do not Turn Pens but who's to say I may in the future? so I therefore used the 6mm reduction as my dimension "X" which on my set up gave me a dimension of 40mm [just over 1½"] from the front edge of the Tool Rest Bar to the Centre of the Tool Post.
This is my main Tool Rest used with the Flip Down Set Up and comprises of a 12mm Ø [½"] Silver Steel Cross Bar 110mm [4¼"] long welded to the Angled Bar which is the same size.

This "T" assembly was then Welded onto the Tool Post which in my case is 20mm Ø [nominal ¾"].

The Angle is approximately 70° off the Vertical but this is not critical and the final angle and length will be determined by the overhang and the height of the Banjo Tool Post Holder.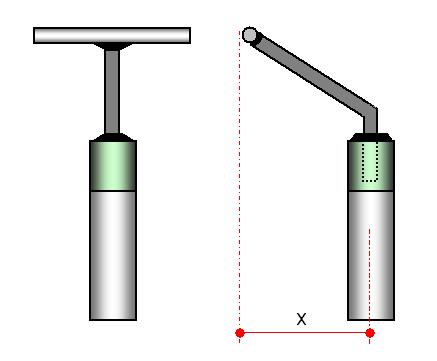 Another version of the Rest described above is this one which I use for Shorter Items such as Bottle Stoppers and Miniatures.

This has a 75mm [3"] Cross Bar 9mm Ø [3/8"] and again with the Angled Bar at the same diameter.

This time the Angle is formed by bending and then inserting the bar into a 10mm hole drilled in the Tool Post and Welded.

Dimension "X" was again set at 40mm.

Both of these Rests can also be seen in the picture below in the Tool Rest Storage Unit.
Another Rest that I have found useful is what I call a Right Angle Rest which I use when Turning relatively small items that need access from the side and the end, with this rest I can carry out both Cuts without having to move or reset the Rest as I would for a traditional style of Rest.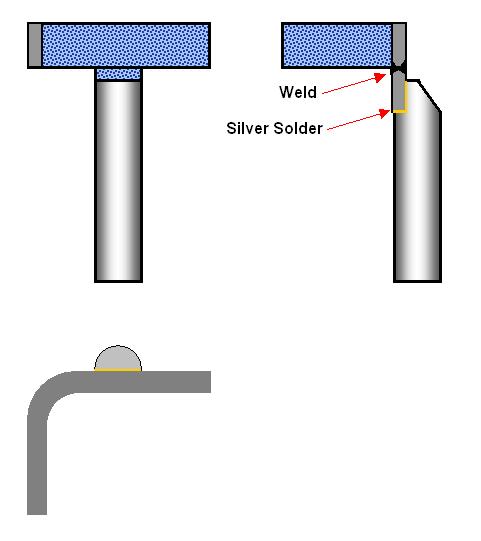 The Rest is made from two pieces of Steel, the Curved or Bent Part was a piece of Mild Steel 130mm x 20mm x 6mm [5" x ¾" x ¼"] which was bent, as shown above, by heating the area to be bent to a Cherry Red which will enable you to easily shape it to form a right angle.
This was then Welded to a 25mm [1"] length of the same material to form a "T" piece, this assembly was then Silver Soldered onto the shaped end of the Tool Post.
As with all the Tool Rests the Size is your choice but do be aware of the Forces that are likely to be applied and size the material accordingly, I'm sure you calculate the requirements but I just analyse what it is I want to use the Rest for and make a realistic assessment as to the Thickness and Over Hang that will be required, you will soon know if you have got it wrong.
The Round Bar Rest is a versatile item and I have a Large one for use with my Deep Boring Bar and the much smaller one shown here.
Again the sizes are your choice but I found a Cross Bar of 15mm Ø [5/8"] by 150mm long [6"] was ideal for up close work and between centers for shorter items.
Another addition to my Arsenal of Rests is what is often referred to as an Arm Rest, this is a Handled Bar with an End Stop that is placed on a Tool Rest and allows you to work at 90° to the axis of the Rest/Work Piece, this is an ideal aid when you just need to clean up the end of a Piece and it is also the preferred method of support when doing Internal Thread Chasing.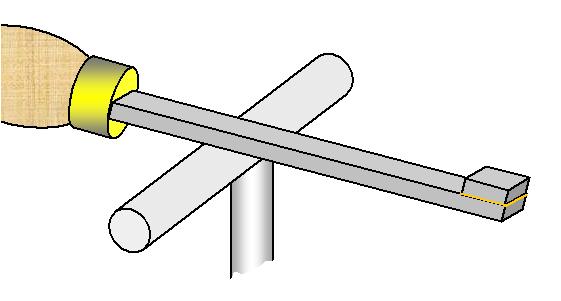 Mine is made from a length of 15mm x 12mm Steel with a 20mm length of the same material Silver Soldered onto one end as shown above, the other end was Cut/Ground to form a Tang that would fit into an old Handle from a redundant Turning Tool.

More Tool Rest Articles I.


More Tool Rest Articles II.


More Tool Rest Articles III.


More Tool Rest Articles IV.
---
Tool Rest Storage

The bore of my Banjo is 20mm which just happens to be a push fit into the standard 25mm MDPE Underground Water Piping System [European Standard Blue], I simply cut off suitable lengths [75mm or 3"], Drill a 25mm Ø [1"] Hole in a suitable length of Softwood and tap the Tubes into place.

Of course you may not be so fortunate and will have to find a Tube to suit your Tool Post size but this should not be too difficult, or you can quite easily Drill out such Tube to suit your size of Tool Post..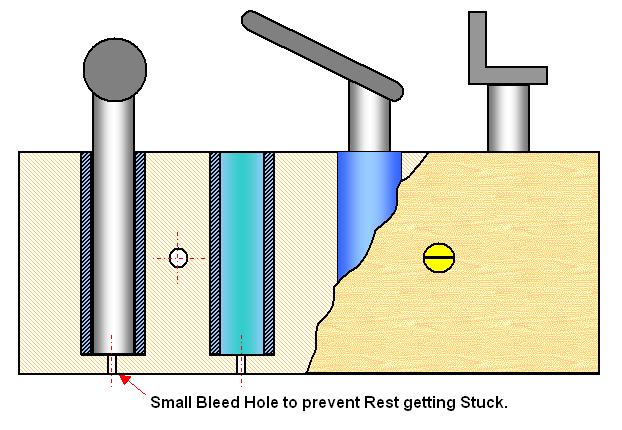 A small hole needs to be Drilled into the bottom of the holder, as shown in the picture above , as the fit is so good without this Vent Hole you will not be able to push the Tool Rest in and if you did you will then have great difficulty extracting it.

I have two of these Holders one is screwed to the underside of a shelf and the other onto a shelf as shown in picture below, each holder is capable of holding 7 Rests but you are only restricted by the space available and the actual number, present + future, you own.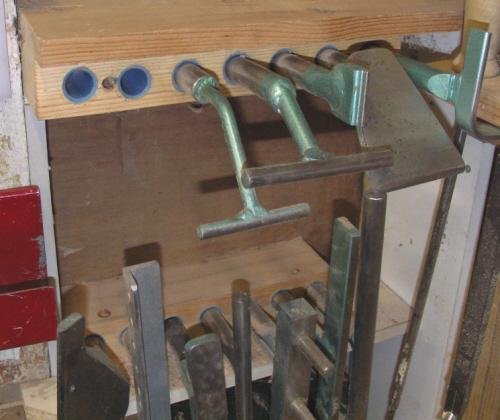 I also have a Tool Rest that is much longer than those shown here and would not fit into the space I had available so for this I use the same principle only this time the Pipe is inserted into a vertical wooden support of my Shed.
The real benefit is that all my Tool Rests are kept together and are protected from any damage and corrosion [rust] by simply squirting some WD40 occasionally into each of the Tubes.
---
---
LaymarCrafts Woodturning is the Web Site of Richard & Sheila Stapley
All Content, Articles, Pictures & Diagrams as Presented are the © Copyright of LaymarCrafts & Richard Stapley
Last update 06 May 2008
All Rights Reserved
Web Site Design & Construction by Richard Stapley.