| | |
| --- | --- |
| LaymarCrafts Woodturning | Hints & Tips |
---
Texture added to Bowls, Pots, Vessels and Vases can be quite pleasing and their are many renowned Turners who use Texturing as their trade mark and each has his own particular way of achieving a desired effect.
In fact many Crafts use Texture as a medium and many of the Tools and Punches they use can be used for Wood in particular those used by Leather Workers and a Scan through any one of the Leather Suppliers Catalogues will give you a wide array of Stamps and Punches.
But many of these can be made from a whole range of Materials and Items if you do not mind having a mix match of Basic Shapes or Nice Rubber Grips, none of which make the item work any better, they only look nice.
I have used Old Punches, both Pin and Center, Steel Bar, Cheap Spring Loaded Punches, Tube in fact anything can be made into a Texturing Tool or Punch.
Simply take a piece of Steel and Grind or File the end to a Shape or Style of your choice, Polish it to a reasonable finish and test the result on some off cuts of suitable Timber, I use scraps of Maple as this is a Fine Grained, Dense Hardwood and typical of the types of Wood I would be Texturing.
Typical Punches:-

A = Pin Punch shaped to suit, Flat, Bull Nose, Ball or Cone.

B = Old Center Punch with Bull Nose Shape.

C = Proprietary Texture Punch as used by Leather Workers, gives a Cross Hatch Effect.

D = Cheap double ended Spring action Punch each end shaped to suit, Flat, Bullet Point etc.

E = Steel Tube to make Circle or ground away for Half Moon shape.
Shapes I use are Conical, shape as for a standard Center Punch, Flat both Round, Square and Diamond Shapes, Ball Nose or Bullet Point in various sizes, you can also have Flat Chisel, Ring, using a Tube, of various sizes, Half Moon in fact any Shape or Style you like.
Sources for Punches are, Cheap Tools from Markets, these are generally too Soft for use on Steel but we are only Punching Wood, Secondhand Tool Stores, Boot Fairs, Garage Sales, Nails, Salvage Steel from such things as Printers, Photo Copiers and Domestic Appliances.
Texture Punch for use with a Power Carver
Hand Texturing relies on the use of a Hitting Action from either a Hammer/Mallet or via a Spring Loaded Action if using an Automatic type Punch.
The requirement for good Texturing is to use a constant Force when applying the Shape with the Punch and the Hammer, this takes practice and concentration.
The other option you have is to utilise one of the Power Carvers available these will give you a controlled Force for each application of the Punch and this Force can be controlled according to the Speed Setting of the Power Carver.
All you require is to replace the usual Chisel with a Punch of your choice and use the Power Carver at 90° to the Piece to achieve the desired Texture Effect.

When making Punches for use with any of the Reciprocating Type Carving Tools or Flexible Shaft Heads it is important to duplicate the same Holding Profile from the Chisels/Inserts that were supplied with your chosen make.

I have the Axminster Power Carver which is a Branded Tool and therefore is known by other names in different countries, but the principle is the same for all makes and types.

I started with a 6mm Ø Steel Bar and ground one end flat to form the "Tongue" which is 25mm x 1.8mm thick then on the end I filed a 3mm x 3mm Location Tag.

The Hole in the Chuck of the Axminster system is 5.5mm Ø and therefore I had to file the Tongue part down from 6mm to 5.5mm to make it fit
z
The final length of your Punch is not important but I have found I get better control with a Shorter rather than Longer Punch and an overall length of 45/50mm is what I use.

With the Punch held in the Chuck on the Lathe I Profile the end to the required shape using a File and then finally Polishing with some fine emery cloth, I have found a final Polish with some Metal Polish gives a really fine finish.

In the picture right you can see two of the Punches I have made one is a simple Dome whereas the other is more of a "Bullet" shape and is the one I tend to use the most.
---
Height Gauge
I have a requirement to find or locate the Centre Line of the Lathe Spindle to set the height of Tools or Cutters, when using various items such as the Boring Bar and the Tool Rest, from the Lathe Bed [Ways] and also from the Top Surface of the Baseboard when using the Ball Cutting Jig, Dremel Holder and Drill Holder.
The Centre Line is of course fixed but there is a difference of 25mm due to the thickness of the Baseboard i.e. from the Top of the Lathe Bed the Height is 20cm but from the Baseboard Surface it is only 17.5cm.
I also have the need to set Tool Heights at a distance just above or below Centre Height so therefore my requirement was for a Gauge with two fixed Points and a fully variable measurement method as well.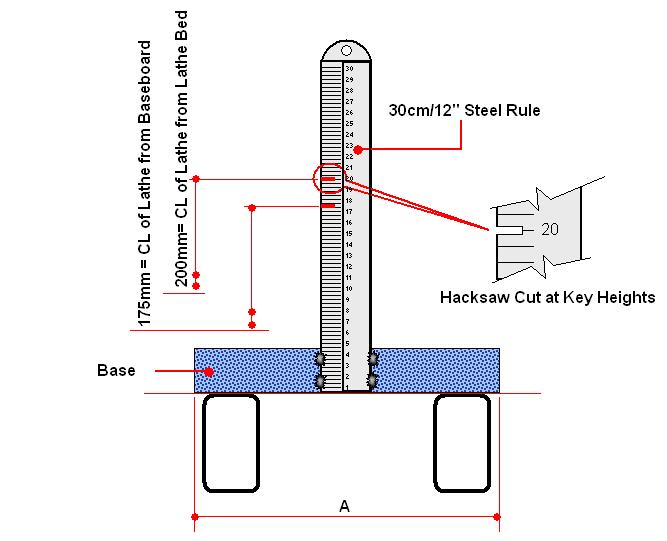 The Height Gauge comprises of two parts, a 30cm [12"] Steel Rule and a Base as detailed above.
The Base can be from anything that is Flat and Strong, Steel Box Section [My choice], Hardwood, Metal Angle etc. etc. the base needs to be at least 2cm in length longer than the width over the Lathe Bed [Ways] "A" in my case is 150mm long, it also needs to be of sufficient proportions and weight so that it will not topple over if left free standing [25mm Sq/1"Sq Box Section is adequate].
You then fix [Bolt/Screw/Weld] the Rule to the Base ensuring it is Square and that the Zero Point of the Rule is flush with the bottom of the Base.
I then, using a Hacksaw, made two small Cuts [2mm long] in the Rule at the Heights equal to the Centre Line of the Lathe from the Lathe Bed [20cm] and from the Baseboard [17.5cm].
This gives me my requirements of two Fixed Points plus any dimension which is read of the Scale on the Rule for specific above or below Centre Line Settings I may need.
---
---
LaymarCrafts Woodturning is the Web Site of Richard & Sheila Stapley
All Content, Articles, Pictures & Diagrams as Presented are the © Copyright of LaymarCrafts & Richard Stapley
Last update 06 May 2008
All Rights Reserved
Web Site Design & Construction by Richard Stapley.