| | |
| --- | --- |
| LaymarCrafts Woodturning | Hints & Tips |
---
I have 4 sets of Dovetail Type Expanding Jaws of which 3 are in constant use, each requiring a different size Dovetail Recess in the work piece for the Jaws to locate into.
For each of the different Jaw Sets I have made one these handy fixed point Dividers, each is conveniently marked with the Jaw Size and the Dovetail Recess Diameter (being made of Plastic it is easy to engrave the relevant details using a Pyrography Pen).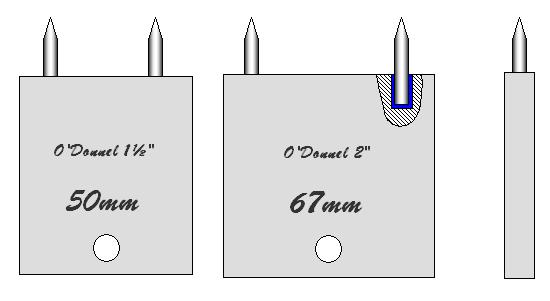 They are made from some sturdy 10mm thick Plastic sheeting that was reclaimed from a skip outside a shop that was being fitted out, but they can just as easily be made from any suitable material, Hardwood, Nylon, Metal etc.
The Points that make up the Dividers are simply made from 40mm x 3mm Ø (1½" x 1/8" approx imperial equivalent) Masonry Nails with the Heads Ground off.
Carefully drill two 3mm Ø x 20mm holes (to suit actual size of Nail used) at the correct distance apart to suit the Jaw dimension required and insert the Masonry Nails, a drop of Super Glue in each hole is sufficient to hold them in place. Make sure you do not use too much Super Glue and protect your Eyes when pushing the Pointers in as the Glue can be ejected.
A hole at the other end so that the Gauge can be hung up out of harms way when not in use and you are ready to go, these Dividers are used in just the same way as if you were using a pair of adjustable Dividers.
I have also made similar Dividers for various other diameters to suit such things as Coasters, Clock Inserts and Pot Pourri Lids again each is clearly marked with the relevant diameter and application to which it applies.


---
6" Rule for Setting Dividers & Calipers
One Problem I had was that I was always misplacing or losing my Six Inch Rule, this was happening on average at least once a month, I would waste time rummaging around in the Shavings and often it was never found again and therefore became a time wasting exercise and an unnecessary additional cost.
My Lathe is blessed with a Square Sectioned Tailstock which means I have three available flat surfaces to play with, which are always at hand on the Lathe. If your Tailstock is not of a suitable shape then you could fix a Flat Surface to the body of the Tailstock or attach the Rule to any other convenient flat surface close to the Lathe.
As I had already used the front surface of the Tailstock to fix my Drilling Depth Gauge the top surface of the Tailstock was the obvious choice. Having cleaned both surfaces I stuck the Rule in a suitable place on the Tailstock using a Contact Adhesive.
With a Centre Punch I then made an indent at the "0" point of the Rule to form the Datum Point and further indents at relevant distances from this point, these were to suit the various common settings for Calipers, Dividers or Compass's that I used.
Tailstock with 6" (150mm) Steel Rule Fixed in place and Showing Dividers being Set.
Having made these Mark's you will need a handy reminder to tell you what each is for and in my case this took the form of a small Laminated Card 150mm x 80mm fixed to the wall close by the Tailstock.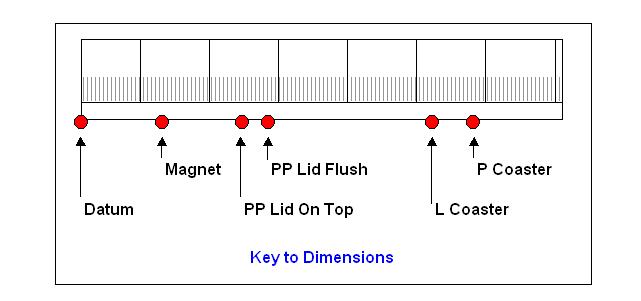 Laminated Reminder Sheet showing various Standard Settings for Dividers.
The original Drawing was first produced on the Computer, using Excel but any package with a drawing capability will do, and then taken to a local Stationery Suppliers which offer a Laminating Service and for a few Pence had the original Drawing Laminated with a 12mm border.
By punching a Hole(s) into the Border using a Standard Paper Hole Punch you can fix the Drawing to the Wall with Drawing Pins without fear of Damage, alternatively Blue Tack or even Hot Melt Glue can be used.


---
Laminated Information Sheet for Button Jaws
In fact I have a whole serious of Laminated Sheets (mostly A4 Size) covering the different aspects of the many common dimensional and capacity requirements for my Woodturning, these include:-
Button Jaw internal and external holding capacity.
Mini Button Jaw capacity.
Chuck Jaws, round capacity, square capacity, spigot & dovetail size.
Lathe Speeds.
Maximum cutting speeds for various tools.
Indexing Angles and pitch.
I include the first from the list above and will include the others at a later date, on other Tips Pages, along with an idea for a handy holder that I use for all these sheets.
Internal & External Holding Capacity for APTC Button Jaws.

Button
Position
Internal A mm
Minimum
Internal A mm
Maximum

External B mm
Minimum

External B mm
Maximum
1
107
138
57
88
2
132
162
82
113
3
157
188
107
138
4
182
213
132
163
5
207
238
157
188
6
232
263
182
213
7
252
283
202
233
These dimensions were measured by adjusting the Jaws through the minimum to maximum (safe) travel and using a pair of Internal Calipers to measure the two respective diameters. These dimensions apply to the APTC 250mm Button Jaws only and you will need to verify the dimensions for Other Makes of Button Jaws.
---
Magnets some Uses in the Workshop
Magnets in the Workshop can be a versatile item and they are well worth keeping, there are a number of sources that exist for Magnets, other than buying them, Hi-Fi Speakers, Magnetic Door Catches, Microwave Ovens, all contain good Magnets, I'm not suggesting you relieve your Domestic Appliances of all there Magnets, but old and redundant items can be stripped and the Magnets removed.
Like many Turners I often work to Drawings or Sketches that I need to have in my view when actually Turning or Working on an item, also there are Sketches of Ideas, To Do lists, Reminders and the numerous other bits and pieces that require to be at hand in various locations around the Workshop.
Dotted around my Workshop I have fixed short lengths of Steel Strip (100mm x 25mm approx.) these are attached to the Walls, Cupboard Doors, Shelf Edges Etc. Etc. These can either be Screwed, Nailed or Stuck to any clean and flat surface in a position to suit. I have such strips adjacent not only to the Lathe, but at the Drill Press, Bandsaw and Grinder to hold any relevant notes I have made as to Cutting Lengths, Drill Sizes or Grinding Angles.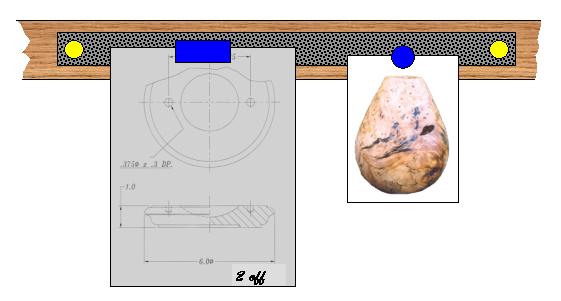 Metal Strip Screwed to a Flat Surface adjacent to the Lathe with Magnet holding Sketch.
The Steel Strips I use were cut from the Cover of the Old Microwave I wrecked to get the Magnet and other useful (maybe) odds and ends. To cut this thin material I have found that a Jig Saw fitted with a Fine Metal Cutting Blade (typically Bosch type T118A) is ideal.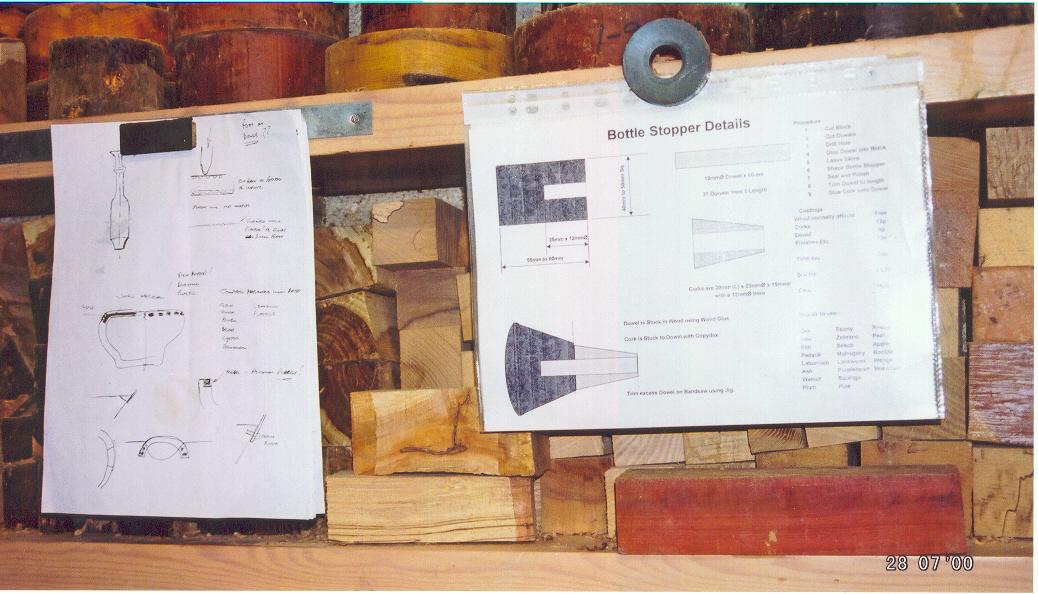 Over the coming Months I will cover other useful and interesting uses for Magnets that I have adopted in and around my Workshop.
---
---
LaymarCrafts Woodturning is the Web Site of Richard & Sheila Stapley
All Content, Articles, Pictures & Diagrams as Presented are the © Copyright of LaymarCrafts & Richard Stapley
Last update 19 July 2007
All Rights Reserved
Web Site Design & Construction by Richard Stapley.