| | |
| --- | --- |
| LaymarCrafts Woodturning | Hints & Tips |
---
Sawing Platform for the Chainsaw
A few years back just before Christmas I was due to do a Craft Fair at a Local Village Hall and as I had arrived early I decided to take a stroll around the adjacent Playing Fields for some exercise, on the far side of the area I came across a very large Tree, later I identified this as a Horse Chestnut, that had been felled and sliced.
It was obvious that it had originally stood in the Garden of a House that was adjacent to the Playing Fields, on closer inspection the Slices of Timber were full of Burr and a good deal of Quilting and the thought of being able to have the odd piece was exciting.
A few enquiries and a couple of hours into the Craft Fair I was approached by the owner of the House, who had been told of my interest in his pile of wood, and we discussed the situation.
Basically it transpired he had to remove the Tree from the Playing Fields yet the slices were far too large to move or carry, and as I wanted some of the Wood for Turning, we struck a deal, I would cut it into manageable pieces in return I could have what ever I wanted.
So over the next 3 weekends I harvested all of the Burrs and other Interesting pieces, the picture below is the result of just one of those sessions and represents three Boot [Trunk] Loads, in all I made 10 Trips backwards and forwards to collect my booty.
Although I had owned a Chainsaw for some time I had never invested in any real Safety Wear and decided that I should do so before my Luck ran out, so I purchased Helmet/Visor/Ear Defenders, Protective Leggings, Gloves and Safety Boots and I must admit I for the first time felt relaxed and in control of what I was doing, knowing I would be protected as best as I could against any Incident.
This mass of Wood now required re-sawing into Blanks or Pieces of a suitable size for my Bandsaw before Waxing and storing away for Drying.
I had a number of issues that I felt I needed to address, considering the amount of Wood I would have to cut, something like 200 pieces, firstly we are talking December/January in the UK which was either Cold and Frosty or Raining, secondly I can either use the Lawn or the Concrete Path as my base for Cutting On, in the past this has often resulted in Damage to the Lawn at best or the Chainsaw at worst.
An alternative was to use the Workshop, Warm and Dry, but this has limited space and a Concrete Floor so I would require some means of Supporting the Wood with reasonable room around for Sawing and Safety.
My solution was to make the Sawing Platform and Log Cradle as illustrated below:-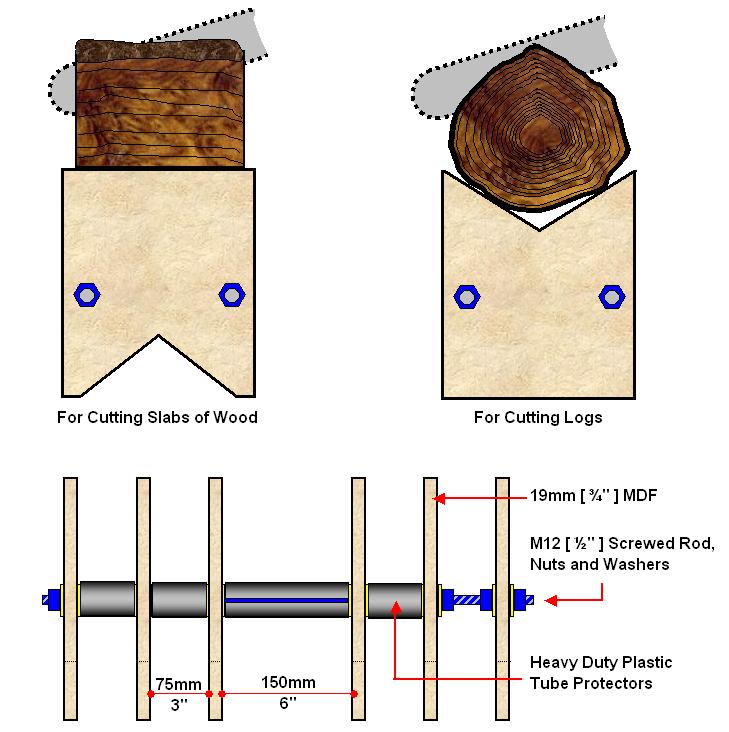 The basic concept is a support that can be used to carry Slabs/Slices of Wood when one way up and Logs/Boughs when reversed.
Firstly cut 6 pieces of MDF, or any suitable material, to approximately 380mm [15"] x 300mm [12"] and then cut a "V" into one of the 300mm edges to a depth of approximately 100mm [4"], then drill two suitable holes [13mm Ø]on the center of each piece [190mm] say about 50mm [2"] in from each edge.
I then used two lengths of M12 [½"] Screwed Rod to form the "Comb" like arrangement, by sandwiching each of the pieces of MDF between a Nut and Washer as shown, allowing a 75mm [3"] gap between the first and final three boards with a 150mm [6"] gap in the middle.
After using the Platform for some time I have noticed that some of the Nuts are coming loose, obviously due to the vibration generated when sawing, I have therefore re-tightened all the Nuts and then Spot Welded them in place, alternatively you could use some form of Adhesive, such as Thread Lock or Epoxy or use Lock Nuts to stop the Nuts from coming loose.
To protect the Chainsaw Blade from fouling the Steel Screwed Rod I simply slipped [cut to length required and then slit along the length] some 1½" Ø Heavy Duty Plastic Pipe over the Rods and Nuts.
This will give sufficient protection and they can be easily replaced if and when they get damaged.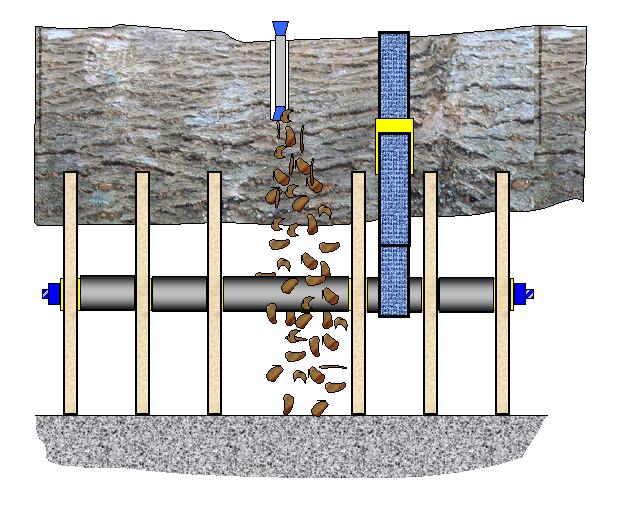 The arrangement also allows for the piece being cut, whether in the "V" or on the Platform, to be Strapped down and therefore safeguarding against any movement or loss of control when Cutting.
The illustration above shows the use of one Strap and in my case I used a Ratchet Tie-Down Strap, these come in numerous designs and are generally available from Trailer Suppliers.
Mine is of the Wrap Around type and I simply place it around the Piece of Wood to be Cut and the relevant Tie Bars of the Platform and use the Ratchet Handle to tighten it, as these Straps are generally made from Polyester Webbing they should not do any damage to the Chainsaw Blade should it come in contact with the Webbing.
The Ratchet/Buckle however is of Steel and is best located low down and away from where the Saw Blade may reach.

| | |
| --- | --- |
| | In the Picture left you can see the Platform used in Log Support mode and above with a Slab of Oak ready to Cut |
By extending the Screwed Rod beyond each end you could if necessary attach some "A" Frame type Legs to raise the cutting height but I found that the assembly sitting on the Workshop Floor or on the Hard Stand outside the Workshop was ideal for my requirements.
I used this to cut each and every piece of my Wood Pile and have ended up with well over 1,000 Bowl Blanks, Burrs for Natural Edge Bowls, assorted Billets and Blocks, and apart from the odd mis-calculated cut and slip onto the spacer bars, fortunately protected by the Plastic Pipe, the Platform is ready for my next Tree.
| | |
| --- | --- |
| | An Article based around this Design was Featured in the Winter 2006, Volume 21 of the American Woodturner Magazine. |

| | |
| --- | --- |
| | Some Pictures showing variations of my Design by other Woodturners. |
---
---
LaymarCrafts Woodturning is the Web Site of Richard & Sheila Stapley
All Content, Articles, Pictures & Diagrams as Presented are the © Copyright of LaymarCrafts & Richard Stapley
Last update 14 January 2010
All Rights Reserved
Web Site Design & Construction by Richard Stapley.