| | |
| --- | --- |
| LaymarCrafts Woodturning | Hints & Tips |
---
Having progressed with my Woodturning to the stage where any Dovetail Groove or Spigot on the underside of my work was unacceptable, and having invested in a set of 250mm Button Jaws, I was happy until I realised that anything less than 60mm External or 110mm Internal could not be accommodated by this system.
I then decided to purchase a set of Wood Jaw Plates for the Chuck with the idea of making a series of Soft or Wooden Jaws, as recommended, for supporting various sizes of Work.
I soon realised that in fact a Mini Button Jaw Set would be more versatile and flexible in use and below I detail my solution for making such a set of Jaws.

q

You will require:-

Set of Wood Plate Jaws to suit your Chuck

Set of Accessory Mounting Jaws*

16 Buttons or Grommets

16 Set Screws to suit (Length = Grommet + Plate)

Engineers Tap to suit Holes in Plates (Screws)

I tend to always permanently attach any Jaw Accessory to it's own set of Accessory Mounting Jaws as this not only saves time but also unnecessary Wear and Tear of Threaded Parts.

The Screws I used were M6 x 22mm and the Grommets were 15mm od x 12mm lg.
The Mini Button Jaws are based on the 100mm (4") Wood Jaw Plates, as shown right, I found that the 16 Holes provided for the screws when attaching a set of Wood Jaws were suitably sized to take a M6 Thread.

By carefully Tapping each Hole to take a M6 Cap Head (I used Cap Head because that is what I had available but any suitable Screw will do) Set Screw I had the means of fixing to the Plates a series of Rubber Grommets to act as the "Buttons" for supporting the Turned Pieces.

For the Buttons I have used Long Neck Grommets (from Electrical Wholesalers) as these are Tapered and therefore give a far better grip.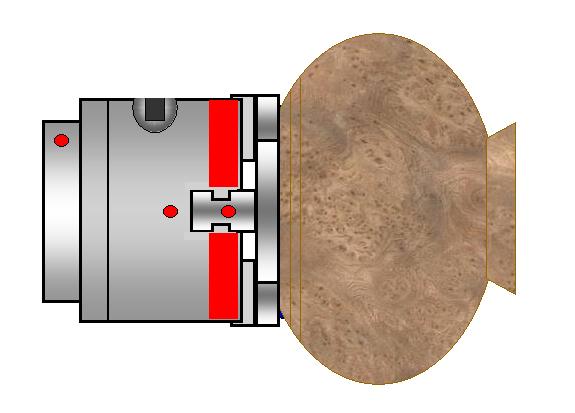 The sketch above shows how the Mini Button Jaws are used for holding work Internally.
The Jaws are used in this mode for such items as Pot Pourri Pots, Pin Cushions and Bowls with an Inverted Rim, to remove the Dovetail Recess or the Spigot from the Bottom of the item.
The Mini Button Jaws can also be used for holding work externally as shown below and this is useful when finishing off Boxes, both the Bottom of the Box and even there Lids can be held and finished this way.
For any item of unreasonable length then it is always advisable to use a Live Center fitted in the Tailstock to give support to the Work.

Used for Supporting Internally:-

Pot Pourri Pots
Pin Cushions
Bowls
Pots
Boxes
Vessels

Externally:-

Pots
Boxes
Box Lids
Goblets
Candle Holders
Bowls



The Picture left shows the Jaws Mounted on the Chuck with the Buttons in the Inner Ring of Holes.

The Mini Button Jaws can be used with differing sizes of Grommet to increase or decrease their capacity and also to hold such things as small Natural Edged Bowls/Pots.

The potential to use custom shape Grommets/Rubber/Nylon Grippers is also an option.

The Plate Jaws still retain their capability of accommodating any Wooden Jaw Sets or Fixtures you wish to use in the future.
Capacity Chart for the Mini Button Jaws


Internal Holding Diameter
z
External Holding Diameter
a
| | | |
| --- | --- | --- |
| Button Position | A Min mm | A Max mm |
| Inner | 70 | 90 |
| Outer | 90 | 110 |

| | | |
| --- | --- | --- |
| Button Position | B Min mm | B Max mm |
| Inner | 45 | 65 |
| Outer | 65 | 85 |
These Capacities are based on the Set Up described above and will not necessarily apply to every type of Chuck, and will deviate dependant on the Size of Grommets used.
---
---
LaymarCrafts Woodturning is the Web Site of Richard & Sheila Stapley
All Content, Articles, Pictures & Diagrams as Presented are the © Copyright of LaymarCrafts & Richard Stapley
Last update 19 July 2007
All Rights Reserved
Web Site Design & Construction by Richard Stapley.