| | |
| --- | --- |
| LaymarCrafts Woodturning | Hints & Tips |
---
Safe Storage of Chuck Components
If you have been following this series of Hints & Tips you will know that I have adopted the APTC Chuck as my prime system and that previously I used the Multistar Chuck which occasionally is put to use, although their are some components that can be used with the APTC Chuck.
These Storage ideas are primarily adaptable to anyone using one of the many 4 Jaw Scroll Chucks that exist, with the cost of many of these Chuck systems often exceeding the cost of the Lathe it is important that they are looked after and protected from damage and loss.
Wood Dust is generally recognised as being abrasive and therefore will readily erode Steel Parts that come in contact with each other and the Wood Dust. It is therefore important to keep parts as clean as possible, and restrict as much as possible the amount of mechanical action between parts where Dust is present and of course some Wood Dust can have a Corrosion Effect on Steel if not wiped off.
To clean all the components of my Chuck I use an old Tooth Brush and a Solvent Cleaner on a regular basis, I then lubricate all surfaces using one of the Dry PTFE, Teflon or Silicon Sprays that are available from a number of sources. I also at least once a year strip and clean the main Chuck Body and re-assemble with new Grease.
As a preventative measure against unnecessary wear I fit all the Jaw Sets with there own set and permanently fitted Accessory Mounting Jaws this will stop wear on the screw threads caused by consistently changing from one Jaw set to another and therefore ensure all components give a long life.
I soon realised that Storage of the Chuck and Jaws was also important and needed to achieve a number of prime functions, [1] Keep all parts free of Dust, [2] Protect Jaws and Components from Damage, [3] Store in a neat and tidy manor ready for use at all times.
To keep Dust out, the system has to be stored in some form of Cabinet, Draw or Box, I made a carcass to form Cabinet that fitted into a vacant wall space. This Cabinet has a Hinged Door [not seen in the picture] to which I have stuck some Foam Draught Seal to ensure the Door when shut has a good seal to prevent as much Dust as possible from finding its way into the Cabinet.
The sketch below shows the general layout of my particular Cabinet, which currently can contain 5 Sets of Jaws, Button Jaws, The Chuck c/w a Set of Jaws, Faceplate Rings, Morse Carriers, Screw Chuck and a neat Storage system made up of Modular Drawer Units that accommodate all the odds and ends associated with any Jaw System plus a lot more besides.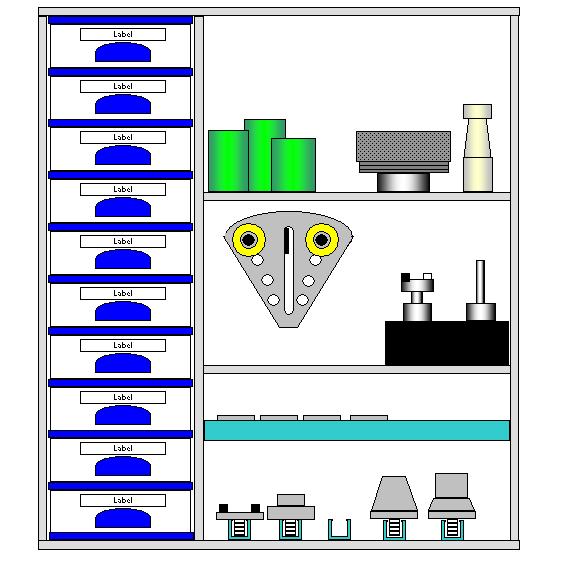 The Cabinet is constructed from Melamine Coated Chipboard and sits between and is fixed to two of the vertical supports for the Shed.
For the Engineers Stepped Jaws I have a length of 20mm x 20mm Aluminum Channel (max. Length 340mm will accommodate both Jaw Sets) which is simply stuck onto the back wall of the lower part of the Cabinet.
I have both the O'Donnell [2 sizes] and Dovetail Style of Jaws, plus a Mini Button Jaw Set (these will be the subject of a later Hints & Tips page) and a set of Cylinder Jaws all of these are permanently fitted with a set of Accessory Jaws, the main body of each Jaw Sits on the Flanges, of the same 20mm x 20mm Aluminum Channel as used for the Engineers Stepped Jaws, with the attached Accessory Jaws sitting inside the Channel.
Again these are simply Glued to the bottom of the Cabinet using a mastic type adhesive that will stick Aluminum to Melamine these being slow drying and flexible allows you to make sure you can move them around to have enough space to get all the Jaw Sets in before they finally adhere.
Part of my collection includes a number 2MT Carriers left over from my previous Chuck System which I still use with the Axminster and the 38mm O'Donnell Jaws, these are fitted with various devices such as a Two and Four Prong Drive and the Mini Gripper Chuck from Craft Supplies, a Screw Chuck, Pin Chuck and my own design of Drive.
For these I layered together 5 pieces of some 12mm MDF with a footprint suitable to hold six Drives of various sizes but each with the same diameter body of 38mm [1½"] having a suitable size of Forstner Bit I proceeded to Drill six recesses to a depth of 50mm [2"] into which each Drive Unit will sit.
The Rack is not fixed in anyway so can be removed at any time should the need arise.
I use the 250mm Button Jaw Set and with the Axminster Design you have a convenient Slot in the center of each Jaw and this became my means of support. A simple right-angled Bracket fitted horizontally onto the back of the Cabinet is all that is required.
This I made from a strip of steel 25mm 180mm [1"x 7"] cut from an old Washing Machine side panel, bent at a right angle to form a 25mm long flange into which I drilled two holes and screwed it to the back board of the Cabinet, to safeguard against damage I wrapped the protruding part, onto which the Jaws will slide, with Black Electricians Insulation Tape.

The Top Shelf is reserved for items that would not fit into the Drawer Units such as, Plug Gauge for Nightlight Candles, my old Multistar Chuck Body, the Aluminum Spigot Rings described in the Techniques section of the Web Site and a Nylon Collet I use for Turning Bottle Stoppers.

Also a couple of Morse Taper Extensions and my Small Vacuum Cup Chuck.

The ancillary items such as Drives, Faceplate Rings, Fixtures and Fittings etc. are stored in the Drawer Unit to the left of the Unit.

These Drawers also Store a multitude of items previously stored in various containers dotted around the Workshop.

Now I have everything to hand, Allen Keys, Tool Tips and Fixing Screws, Texture Punches, Jigs, Diamond Sharpening Stones etc. etc.

I can store my 5 Sets of Jaws plus, and in the horizontal channel along the back of the cabinet, I store the 2 sets of Step Jaws.

My Button Jaw Set is stored in the second compartment, to the right of these you can see the Holder for such things as Screw Chuck, 2 & 4 Pronged Drives, Mini-Gripper Chuck and Extended Drives, all of which are using the Multistar Carrier.

The top shelf holds various odds and ends associated with my Chuck System that are too large to go into the Drawers
The Drawer Unit to the left of the main Cabinet has brought together the contents of numerous Boxes and Containers plus items lying around in odd areas of the Workshop.
Each Drawer stores a specific item and are Labeled to make finding items that much simpler:
Texture Punches
Tool Tips
Buttons for Button Jaws + Screws
Keyring Kit
Knife Kit
Dovetail Faceplate Rings
Slip Stones/Diamond Stones
Small Sanding Discs + Holder
Allen Keys
Templates
Coaster Jaws
Additional Drives
Jigs
And a couple of Miscellaneous
The Cabinet is finished off with the addition of a Door and this ensures everything is kept as far away as is possible from any Dust and at the same time ensuring all parts are protected.
---
Lathe Bed Scraper
One of the more common free gifts/giveaways you find on the Front Cover of Woodworking Magazines (here in the UK that is) is the "Cabinet Scraper" which, if you are only a Woodturner, you will have no real use for.

This Rectangular Flat Scraper however did find a use in my Woodturning Workshop as a Lathe Bed Scraper/Cleaner.

The Scraper, shown left, is fitted at one end with a piece of Rubber Tube by slitting the Tube and placing it over the end and glued in place to protect your Hand against any "Dig In's" that can occur when in use.

For Storage I have a Magnet fixed just above the Lathe onto which the Scraper will hold.

The Scraper is simply Pushed along any of the surfaces of the Bed Bars to clean off any Debris, it can also be used to clean up Tool Rests, Bandsaw or Drill Press Tables etc. etc in fact anything.
---
Lathe Bed Protectors
The alternative to continually Scraping/Cleaning the Bed Bars is to actually Protect them from the debris as and when necessary.
If you have been following these series of Hints & Tips you will be aware that some time back I purchased a length of 65mm square Plastic Rainwater Pipe that I have already utilised for various items, this idea used up the last of the original 2m length I had purchased.
I had a piece measuring 300mm, which was an ideal length for what I intended, but you can have any length to best suit your needs, this I cut lengthways, using the Bandsaw, into two equal halves and drilled a Hole in one end, for hanging the Protector up by when not in use.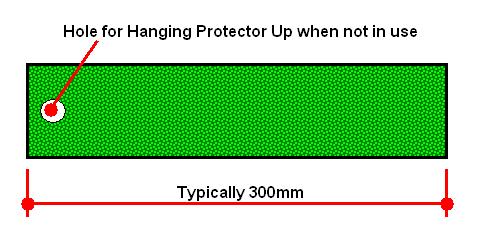 These are placed on the Lathe Bed Bars below the Work when you are applying any Finishes or using Adhesives that if Spilt, Dripped or Splashed on the Bars would require Cleaning (with the Scraper above) before Turning could restart.

I am somewhat fortunate that this particular Pipe is a good fit on the Bed Bars of my Lathe and that you may not be so fortunate, however there are many ways to cover the Bed Bars.
You could construct two Channels from pieces of Wood or Plastic, use a simple cover spanning both Bed Bars again this could be from Wood or Plastic, alternatively take a Plastic Storage Box and cut away the ends so they fit over the Bed Bars and you have another solution.


a
These Pictures illustrate the problem that exists and the solution I have now used successfully for many years, again I have Painted the Protectors (Hammerite Paint) to overcome the Static that is often associated with this type of Plastic.

The Lathe Bed [Ways] after a typical session of Turning coated in Sanding Sealer, Polish and Dust as a result of Sanding, Finishing and Polishing.

The Bed [Ways] will require continuous Scraping & Cleaning to ensure the smooth operation of the Tool Post Slide (Banjo) up and down the Lathe Bed/Ways


a
With the Bed Covers in place this "DEBRIS" from the actions of Finishing of your Woodturning will fall onto the Covers and in doing so the Covers protect the Lathe Bed.

The Covers can be slid along the Bed to the most appropriate position depending on the area you will be working on.

Covers of different lengths may be advantageous for various operations i.e. Short for Chuck Work and Long for Spindle Turning.
c

When the Covers are removed the Lathe Bed is totally clear of any debris and therefore no clean up is required.

When not in use the Covers are hung on a convenient Nail, fixed in the Workshop wall, ideally this should be adjacent to the Lathe.
---
---
LaymarCrafts Woodturning is the Web Site of Richard & Sheila Stapley
All Content, Articles, Pictures & Diagrams as Presented are the © Copyright of LaymarCrafts & Richard Stapley
Last update 19 July 2007
All Rights Reserved
Web Site Design & Construction by Richard Stapley.